About jiMenu
Attractively presenting the menu to improve the overall dining experience.
Milestones & Accomplishments that keeps us growing
Now the revolution is in the palm of your customers' hands. Give their eyes a chance to taste the goodness. Let them swipe through the indulgences. They would 'more than swipe' with the jiMenu touchscreen digital menu system that is our guarantee and your kitchen will stay busier than at any other time. It is the solitary amazing digital menu software that helps you teleport your menu from paper to screen.

Run the intuitive menu on your tablet and enable your visitors to have an extremely particular digital menu experience. jiMenu will enable you to display computerized menus and the pictures will give your customers a visual introduction together with a logical menu containing full descriptions. New search and filter options are available to limit the search as per requirements. The application allows visitors to better visualize the menu decreasing the staff expenses and boosting customer awareness, faithfulness as well as maintenance.
This Android as well as the iOS digital menu is the wave of the future and will revolutionize the restaurant business forever. You will also be capable to check your preferred dishes and save them in your private account. jiMenu is open to integrate with your present POS framework. So it's not just the ordering that would change. It can affect every procedure from ordering to serving at your inn.
For an enhanced and upgraded experience for the customers approaching your restaurant, we have another add-on- jiMenu POS. It simply carries out the whole ordering process along with a visualized form of menu items. Checking the vacant tables for the customers, making orders, taking the orders, and making easy payments via multiple payments methods are made easy over jiMenu POS. Moreover, you can get a clear cut view of sales made by your restaurant on a weekly basis or on a monthly basis.
Since jiMenu and jiMenu POS are the only value that your restaurant was missing, and now that you are here; we are certain you will have it in the following couple of minutes. Be ready to download the magic to impress your customers. Embrace digital menu - the computerized face of the food menu.
What makes us stand out from the Contenders
About jiWebTech
jiMenu is one of the most popular products developed by jiWebTech, which has been successfully delivering the best online software solutions to the utmost organizations and other renowned enterprises since 2017.
jiWebTech is well positioned to be a partner and co-innovator to businesses in their transformation journey identifying new growth opportunities and facilitating their foray into new sectors and markets. jiwebTech offers integrated Enterprise Resource Planning (ERP) solutions that help businesses operate more effectively and see the big picture so they can make strategic decisions that keep them efficient and profitable. The organization holds expertise in ERP & CRM solutions, restaurant management, talent management, and cloud hosting solutions. The main focus of the community revolves around reaching the customer satisfaction level with a set of quality services. The team of professionals holds years of experience and expertise in the latest technology tools and trends. Regardless of the size of an organization, jiWebTech offers the best suitable solutions according to the customer's defined budget.
Our App: That Makes Us Stand Out!
Client Satisfaction
Keeping our client's needs in mind is our foremost priority, and we do our best to add creativity and innovation to satisfy clients at the first attempt.
Instant Support
Whether it is before the development process or after, our team assures 24/7 support at both ends.
Intuitive User Interface
For every person who uses jiMenu, we offer the most intuitive user interface that makes them choose what they want with an easy interactive experience.
Highly Experienced
We optimize efficiency by providing guests with all of the solutions and visual images that make their experience unforgettable.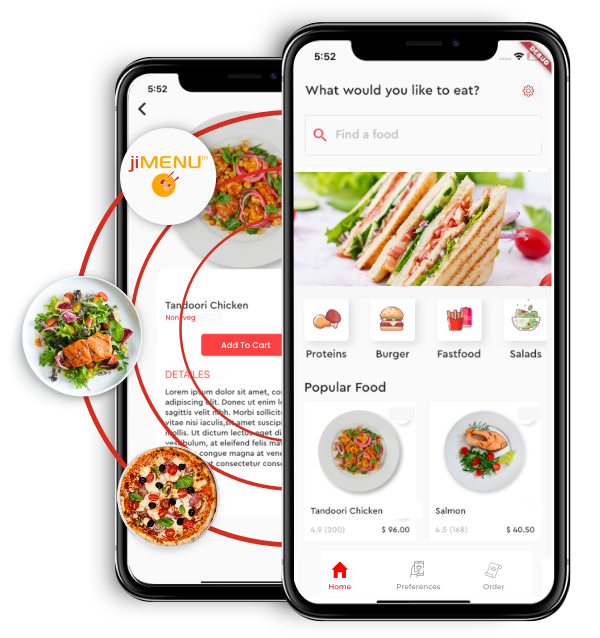 OUR SERVICE
Here's how jiMenu boosts your Business
Increase sales
It is a known fact that graphical images of the menu would attract more customers rather than the traditional menu. Showcase your digitized menu with colorful images and increase your ROI!
Seamless Ordering
jiMenu allows easier decision making, customize your menu and orders, and faster checkout. You can now focus on your food quality rather than taking orders.
Engage and Retain
You can engage with your customers with all their queries with personalized messages and news. Customers can filter the unwanted items giving a clear idea of the order.
Environment Friendly
jiMenu offers safety, hygienic offering menu for the environmentally conscious by going paperless. Whether it is a bar, restaurant, and hotel you only need to scan the menu.